TRALEE

Durch seine Lage im Herzen Kerrys ist Tralee von den Seen und Bergen des "Königreichs" nur einen Steinwurf entfernt. Der Ort selbst ist die Hauptstadt der Grafschaft und Dreh- und Angelpunkt für alles, was sich in Kerry so tut. Nach ihrer Gründung 1216 durch die Normannen hat die Stadt so manche Rebellion gesehen. Herausragende Sehenswürdigkeit Tralees ist das Kerry County Museum mit dem Themapark "Kerry, the Kingdom" (das Königreich). Eine audiovisuelle Show bringt dem Besucher die landschaftlichen Schönheiten der Umgebung näher. Die archäologische Ausstellung präsentiert Fundstücke aus der Grafschaft. Eine dritte Ausstellung ermöglicht einen Besuch im Tralee des Mittelalters. Das Museum ist auf jeden Fall einen Besuch wert und bei Kindern besonders beliebt.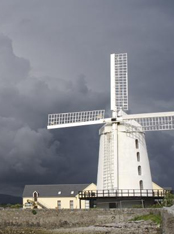 Eines der Wahrzeichen Tralees ist die Blennerville Windmühle. Seit 1780 streckt sich der von Sir Roland Blennershasset erbaute massive Turm mit den kreisenden Segeln dem Himmel entgegen. Heutzutage ist die wiederbelebte Mühle die größte Windmühle Irlands, die noch in Betrieb ist.
Tralee ist berühmt für das jeden August stattfindende Festival "The Rose of Tralee". Das tagelange Fest bietet eine Fülle an Attraktionen, darunter kostenlose Open-Air Konzerte, Flöße, auf denen die Rosen zur Schau gestellt werden, einen Zirkus und jede Menge Straßenentertainment. Wer Tralee zur Festivalzeit besuchen will, sollte sich sehr frühzeitig um eine Unterkunft bemühen, um keine Enttäuschung zu erleben. Tralee ist auch der Standort des Siamsa Tire Folkloretheaters, in dem während des ganzen Sommers traditionelle Tanz- und Gesangsdarbietungen stattfinden.