BANTRY

Bantry Bay ist einer der schönsten Naturhäfen der Welt. 1796 war die Bucht als Landungsort französischer Befreiungstruppen ausersehen. Das Unternehmen mit insgesamt 43 Schiffen, angeführt von Wolf Tone, scheiterte jedoch an den heftigsten Stürmen, die die Gegend je gesehen hatte. So blieb die Vereinigung der französischen Truppen mit denen der rebellierenden United Irishmen aus. Richard White, ein ortsansässiger Engländer, warnte die britischen Autoritäten vor der versuchten Invasion und wurde dafür von Georg III zum Ritter geschlagen. 1801 wurde White zum Viscount Bantry, und 1816 zum Earl of Bantry ernannt.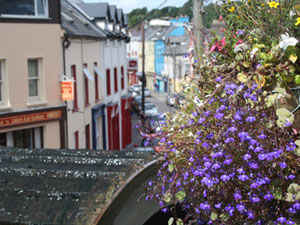 Der zweite Earl of Bantry sammelte Kunst-und Einrichtungsgegenstände aus ganz Europa und renovierte den Familiensitz – Bantry House. Bantry House ist der Glanzpunkt eines Bantrybesuchs und ist, obwohl die Familie White dort immer noch lebt, auch für die Öffentlichkeit zugänglich. Die Gärten sind in jeder Hinsicht so eindrucksvoll wie das Haus selbst. Auf keinen Fall sollte man den "stairway to heaven", die Himmelstreppe im Italienischen Garten an der Rückseite des Hauses versäumen.
Im Zentrum der Stadt befindet sich der große Wolf Tone Square, der zum größten Teil als gebührenfreier Parkplatz zur Verfügung steht. Jeden Freitag findet in Bantry ein Wochenmarkt unter freiem Himmel statt.