BLARNEY

Sechs Meilen von Cork entfernt liegt der Ort Blarney. Das historische Blarney Castle ist berühmt für einen Stein, der der Legende nach demjenigen, der ihn küsst, die Gabe überzeugenster Redekunst verleiht ("the gift of the gab"). Das Wort "blarney" wurde offiziell durch Königin Elisabeth I. in die englische Sprache aufgenommen und wird beschrieben als "angenehme Rede, angelegt zu täuschen, ohne zu verärgern". Der Stein befindet sich in der Schlossmauer unterhalb der Zinnen. Um ihn zu küssen, muss man sich rücklings zu ihm herunterbeugen, während man sich selbst am Eisengeländer des Wehrgangs festhält und von einer anderen Person an den Beinen gehalten wird.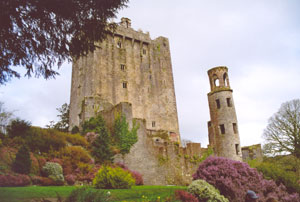 Auf dem zum Castle gehörigen Areal befindet sich der Rock Close, ein wundersamer Ort mit uralten Steinen. Der Legende nach ist es ein Garten mit druidischem Ursprung und Kultstätte aus vorchristlicher Zeit. Der Ort ist umgeben von einer magischen, mystischen Aura und seine Attraktionen, die Whishing Steps ("Wunschstufen"), Witch's Kitchen ("Hexenküche") und Druid's Cave ("Druidenhöhle") erzählen die Geschichte vergangener Jahrhunderte.
Das hübsche Dorf bietet Musik in den Pubs und diverse Läden mit handwerklichen Erzeugnissen (craftshops) finden sich in der näheren Umgebung. Im Dorf selbst befindet sich Blarney Woollen Mills, berühmt für Souvenirs und feine Kleidungsstücke. Blarney hat außerdem einen 18-Loch- Golfplatz mit Blick auf das spektakuläre Blarney Castle.