CAHIRCIVEEN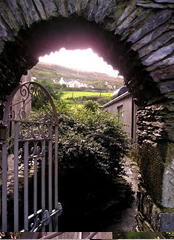 Das ländliche Marktstädtchen Cahirciveen ist das Zentrum der Iveragh Halbinsel im Südosten von Kerry. Am Fuße des Benetee Mountain und am River Feale gelegen, überblickt der Ort den Valentia Harbour. Seine Lage am Ring of Kerry bringt nicht nur atemberaubend schöne Landschaft und eine geschichtsträchtige Umgebung, sondern auch ein breites Angebot an sportlichen Aktivitäten mit sich. Auch, wenn Cahirciveen heute das Einkaufszentrum Südkerrys ist, wird immernoch traditionell auf den Straßen Markt abgehalten - Treffpunkt für den ganzen Ort, um Neuigkeiten, Klatsch und Tratsch auszutauschen. In Cahirciveen erwarten den Besucher versteckte Bars, ausgezeichnetes Essen und eine große Bandbreite an Einkaufsmöglichkeiten.
Cahirciveen ist außerdem der Geburtsort von Daniel O'Connell, dem "Befreier Irlands" und von Sigerson Clifford, dessen Gedicht "The Boys of Barra na Sraide" im Lied unsterblich gemacht wurde. Der Ort ist oft als "Malerparadies" beschrieben worden: Viele Künstler zieht es regelmäßig hierher, um in einer der schönsten Landschaften Europas zu arbeiten. Auch historisch Interessierte kommen voll auf ihre Kosten. Unter den vielen historischen Sehenswürdigkeiten der Region ist zum Beispiel die im 19. Jahrhundert erbaute Daniel O'Connell Memorial Church, die 1875 anläßlich des 100. Geburtstages des "Befreiers" errichtet wurde. Die äußerst ungewöhnliche Praxis, eine Kirche nach einem Staatsmann zu nennen, zeigt einmal mehr, wie hoch geschätzt O'Connell war. Gleich neben dem Ortszentrum stehen die alten Royal Irish Constabulary Barracks, die heute ein Heritage Centre beherbergen. Hier kann der Besucher einen Einblick in die präzise dargelegte Geschichte Cahirciveens gewinnen, aber auch das ungewöhnliche Gebäude selbst genießen, das mit seinem kegelförmigen Aussichtsturm an indische Architektur erinnert. Außerhalb der Stadt finden sich die Ruinen von Carhan Cross, dem Geburtsort O'Connells, und die Heilig-Kreuz Abtei (Abbey of the Holy Cross), in der dieser große Staatsmann beigesetzt ist. Einen Besuch wert sind auch Ballycarbery Castle aus dem 15.Jahrhundert und die Steinfestungen Leacanabuille und Caherine, beides imposante Beispiele für die meisterhafte Trockensteinarchitektur des 8. und 9. Jahrhunderts.
Langeweile wird nicht aufkommen: Aktivitäten sind unter anderem Bergsteigen, Surfen, Wasserski, Segeln, Wandern, Radfahren, Reiten, Golfen und Hochseeangeln - Cahirciveen ist berühmt für eines der besten Fanggebiete Europas. Im August findet das International Deep Sea Fishing Festival statt und Angelwettbewerbe sind für April, Juni und Juli geplant.