BOOK OF KELLS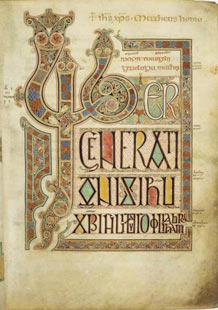 Das Book of Kells, ausgestellt in Trinity College, wurde um das Jahr 800 geschrieben und ist nicht nur eine der schönsten illuminierten Handschriften, sondern auch eines der ältesten Bücher der Welt. Das Buch enthält die vier Evangelien mit Einleitungen, Zusammenfassungen und Konkordanzen für bestimmte Passagen der Evangelien. Der lateinische Text ist in der Schriftart der Insularen Majuskel abgefaßt und auf Vellum geschrieben, der kostbarsten Variante des im Mittelalter ohnehin extrem wertvollen Pergaments. Ganze Seiten sind aufwendigen und detailverliebten Illustrationen gewidmet, kleinere Illuminationen sind mit dem fortlaufenden Text verwoben.
Man nimmt an, dass das Book of Kells in der St. Columcille's Monastry (Kloster) auf Iona angefertigt wurde, einer Insel vor der Westküste Schottlands. Nach mehreren Wikingerüberfällen flohen die Mönche schließlich von Iona ins irische Kells (806 n.Chr.), um die überaus kostbare Handschrift in Sicherheit zu bringen. Im 17. Jahrhundert wurde das Book of Kells dem Trinity College übergeben und ist dort in der Old Library seit dem 19. Jahrhundert ausgestellt. Die Seiten existieren seit 1953 als vier in Kalbsleder gebundene Bände. Wenn auch das Book of Kells das berühmteste Manuskript ist, so ist es dennoch weder die einzige, noch die älteste Handschrift, die in der Universität zu sehen ist: Das aus dem Jahre 675 stammende Book of Durrow und das Book of Armagh von 807 sind neben dem Book of Kells ausgestellt. Die Bände bilden das Zentrum einer Ausstellung, die anschaulich über die Geschichte früher Handschriften informiert und den Besuchern inmitten einer Vielzahl verschiedener Exponate die Arbeitsvorgänge bei der Manuskriptherstellung näher bringt.
Die Bibliothek in Trinity College ist die größte Forschungsbibliothek Irlands. Der über fast vier Jahrhunderte angesammelte Bestand aus Eigenanschaffungen und Schenkungen wächst ständig. Die Bibliothek ist besonders dadurch begünstigt, das sie das Recht hat, Ausgaben aller britischen und irischen Neuerscheinungen sofort zu erhalten. Der momentane Bestand der Bibliothek umfasst ca. vier Millionen Bände, 20.000 regelmäßig erscheinende Publikationen (Magazine etc.), einen großen Bestand an Landkarten und musikalischen Schriften sowie eine umfassende Handschriftensammlung. Die Bücherei ist ganzjährig montags bis samstags geöffnet und hat spezielle Besuchszeiten an Sonntagen.