KELLS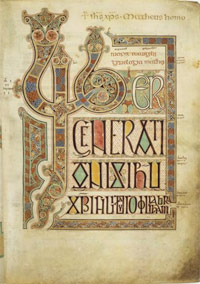 Kells ist der Ort, an dem der Heilige St. Columcille im Jahre 559 ein Kloster gründete. Ungefähr zu dieser Zeit wurden auch Klöster in Derry und in Durrow durch den Heiligen gegründet. Später verließ er Irland mit dem Ziel Iona, eine Insel vor der Westküste Schottlands. Von dort flohen die Mönche im Jahre 807 nach Ceanannus Mor, um eine kostbare Handschrift, heute bekannt als das Book of Kells, in Sicherheit zu bringen, nachdem 68 Ordensbrüder bei einem Überfall durch die Wikinger getötet wurden. Die Stadt Kells erfreut sich besonderer Bekanntheit wegen des Books of Kells, das im 9. Jahrhundert verfasst wurde. 1661 wurde das wertvolle Book of Kells in das Trinity Collge von Dublin gebracht, wo man es besichtigen kann.
Die Stadt florierte bis zum 12. Jahrhundert, dann wurde sie durch Attaken der Wikinger geschwächt. Anschließende Angriffe durch die Anglo-Normannen versetzten ihr schließlich den Gnadenstoß. Nach der Ankunft der anglo-normanischen Eroberer wurde das Kloster geschlossen. In den darauffolgenden Jahren wurde eine Burg errichtet und Kells wurde zu einer befestigten Stadt. Bis zum Beginn des 17. Jahrhunderts musste Kells zahlreichen Angriffen standhalten. Im Laufe des 17. Jahrhunderts jedoch gewann Kells seine ehemalige Vormachtstellung zurück.
Leider sind heute keine Überreste des Castles mehr zu finden. Ein kleiner Teil der Burgmauer kann heute am Ende der Cannon Street besichtigt werden. Weitere historische Sehenswürdigkeiten sind der 30 Meter hohe Round Tower, das Columbia's Stone House sowie Kreuze aus dem 9. und 10. Jahrhundert oder die protestantische Church of St. Columba im Westen von Kells. (Columba und Columcille sind zwei Namensversionen für denselben Heiligen.)
Zahlreiche Geschäfte verlocken Besucher zum Einkaufsbummel. Freizeitaktivitäten wie Reiten, Golfen, Wandern und Schwimmen werden in unmittelbarer Nähe angeboten. Abends sollte man sich von der Herzlichkeit und der Gastfreundlichkeit der Stadt überzeugen, in dem man einen der mehr als 18 Pubs der Stadt besucht.