DUNDALK

Dundalk, zwischen Dublin und Belfast gelegen, ist der Hauptort des County Louth, der kleinsten Grafschaft der Insel. Der Ort ist nach dem keltischen Fort Dun Dealgan benannt, der Überlieferung nach einst die Heimat des Helden Cuchulainn. Im Mittelalter befand sich der Ort an der nördlichen Peripherie des Pale. Nur sechs Meilen von der Grenze zwischen Nordirland und der Republik Irland gelegen, ist Dundalk als Hochburg der Nationalisten bekannt.
Das Ortszentrum von Dundalk wird von der zwischen 1835 bis 1847 erbauten St Patrick's Cathedral bestimmt. Der Bau ist der aus dem 15. Jahrhundert stammenden King's College Chapel in Cambridge nachempfunden und verfügt über ausgezeichnete Granitarbeiten.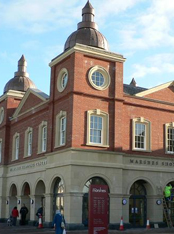 Gegenüber der Kirche steht das Kelly Monument. Das Denkmal ist einem Seemann aus Dundalk gewidmet, der 1858 im Meer ertrank. Auf dem Marktplatz befindet sich auch der Stein der Maid of Eireann, der an den irischen Aufstand von 1798 erinnert (The Fenian Rising). Sehenswert ist auch das im neugothischen Stil erbaute Courthouse (Gerichtsgebäude) an der Ecke Crowe Street und Clanbrassil Street.
Der Hill of Faughart, ca. 5 km außerhalb Dundalks, ist eine der wichtigsten historischen Fundstätten der Grafschaft Louth. Hier befinden sich die Ruine einer mittelalterlichen Kirche, eine Burg und ein steinzeitliches Fort. An diesem Ort wurde auch der 'Cattle Raid of Cooley' ausgetragen.
Dundalk liegt an der Bahnstrecke zwischen Dublin und Belfast und hat fast stündliche Busverbindungen mit Dublin.