BELFAST

Belfast ist die Stadt, in der die "Titanic" gebaut wurde und ist die einzige Stadt Irlands, in der die Industrialisierung richtig zugeschlagen hat. Mit der Lage am River Lagan und dessen Mündung in den Belfast Lough ist es nur ein kurzer Seeweg von Belfast nach Schottland.
Wegen seiner günstigen Lage in der Nähe der schottischen Eisen- und Kohlevorkommen machte die Stadt während der Industrialisierung einen gewaltigen Sprung und entwickelte sich zu einem florierenden Zentrum der Leinenherstellung und des Schiffsbaus. In der Werft Harland & Wolff befindet sich noch heute das größte Trockendock der Welt. Die gewaltigen Kräne (genannt "Samson" und "Goliath") sind aus der Silhouette der Stadt nicht wegzudenken.
Belfast hat viele glänzend erhaltene viktorianische und edwardianische Gebäude mit feingearbeiteten Skulpturen über Türen und Fenstern. Die in Stein getriebenen Züge von Göttern, Poeten, Wissenschaftlern, Königen und Königinnen prangen auf den hohen Gesimsen von Bankgebäuden und ehemaligen Palästen der Leinenindustrie.
Heute ist Belfast das geschäftige Verwaltungs- und Kommerzzentrum von Nordirland. Im Einzugsgebiet von Belfast leben ca. 700.000 Menschen. Große Teile der Innenstadt sind zu Fußgängerzonen umgewandelt worden. Beginnen sollte man seine Erkundung in der Belfast City Hall am Donegall Square, geführte Besichtigungstouren werden angeboten. Tritt man aus dem Hauptportal des Gebäudes, liegt die Linen Hall Library zur Linken. Geradeaus blickt man auf Belfasts Stadt- und Einkaufszentrum rund um den Donegall Place. In direkter Nähe befindet sich das Fremdenverkehrsbüro, das Northern Ireland Tourist Information Centre. Hier erhält man jegliches Informationsmaterial, das man benötigt, um Nordirland kennenzulernen. Studenten auf Reisen finden ein USIT- Zentrum in der College Street um die Ecke vom Wellington Square und ein weiteres in der Students Union gegenüber dem Häuptgebäude der Queen's University.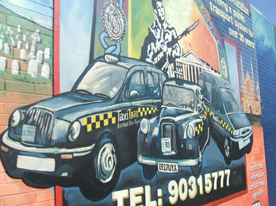 Der Südteil der Stadt ist mit Restaurants, Pubs und Unterkunftsmöglichkeiten reich gesegnet. Neben zwei Kinos, den Botanic Gardens und der 1849 von Charles Lanyon erbauten Queen's University sollte man auch unbedingt das Ulster Museum gesehen haben. Das Museum bietet eine eindrucksvolle Sammlung zeitgenössischer internationaler und irischer Kunst, irischer Möbelstücke, Glas, Silber, Porzellan und Kleidung sowie eine Darstellung des Irlands vor 9000 Jahren. Die bekannteste Ausstellung ist die der Gironda, eines Schiffes der spanischen Armada, das vor der Küste Irlands sank und 1968 von irischen Tauchern entdeckt wurde. Zahlreiche Gold und Silberschmuckstücke können bewundert werden.
Die Belfast City Hall im Zentrum der Stadt wurde zu Beginn des 20. Jahrhunderts im edwardianischen Stil errichtet und erinnert entfernt an das Capitol in Washington. Das Innere des gewaltigen Baus ist mit italienischem Marmor ausgestattet.
Die Botanischen Gärten sind eine der Hauptattraktionen Belfasts.Wunderschöne Rosengärten, bunte Blumenbeete, eine großartige Variation von Bäumen und tropischen Pflanzen sowie das viktorianische Palmenhaus von 1798 warten darauf, entdeckt zu werden.
Belfast Castle befindet sich an den Ausläufern des Cave Hills, die zu den Belfast Hills gehören. Von hier hat man einen fantastischen Blick über die Stadt und den Belfast Lough. Das Castle wird vom MacArt's Fort überragt, von dem aus die United Irish Men die Rebellion von 1798 planten.
Der Lagan Valley Park erstreckt sich über fast 20 km Wald- und Wiesenlandschaft und bietet malerische Spaziergänge enlang des Kanals.
Das Ulster Folk and Transport Museum, ein Freiluftmuseum, liegt im Norden von Belfast und bringt Besuchern das Leben einer vergangenen Zeit nahe. Gezeigt werden unter anderem traditionelle Handwerksarbeiten und die Transportgeschichte Nordirlands. Wandeln Sie durch eine ländliche Szenerie von anno dazumal und besichtigen Sie ein hier aufgebautes typisches Ulster Dorf.
Das 1896 eröffnete Grand Opera House bietet eine großartige Variation lokaler und internationaler Unterhaltung, Theatervorführungen, Musicals, Oper, Ballett, Komödie, Konzerte, Pantomime und vieles mehr.
Die Belfast Pub Walking Tours sind ebenfalls empfehlenswert. Es werden drei unterschiedliche geführte Touren angeboten. Jede der Touren dauert ungefähr zwei Stunden. Ausgangspunkt ist das NITB Tourist Information Centre, 59 North Street in Belfast, samtags, 14.00 Uhr. Die Teilnahme kostet ungefähr £ 5.50, exklusive Getränke. Hier sind nur einige der Pubs die auf dem Programm stehen: The Crown Liquor Saloon (Great Victoria Street) ist eine Perle viktorianischer Pubkultur und eine museale Sehenswürdigkeit. In erster Linie ist das Crown natürlich auch heute eine Schänke mit überaus freundlichem Personal. Barfood-Spezialitäten sind unter anderem "Champ and Sausages" und Irish Stew. Gleich neben dem Crown liegt das Robinson's, in dem jeden Donnerstagabend Comedyevents stattfinden. An fast allen anderen Abenden der Woche wird Livemusik gespielt. Der Lavery's Gin Palace am Bradbury Place bietet eine altmodische Kneipe im Paterre, eine moderne Bar im ersten und eine Disco im zweiten Stock. Lavery's ist sehr beliebt bei Studenten und so gut wie jede Nacht rappelvoll. Bisweilen gibt es auch hier Livemusik im Hinterraum der Kneipe, der Backbar.
Der Belfast Zoo liegt in der Nähe des Cave Hill und ist bei schönem Wetter unbedingt einen Ausflug wert.
Um alle Sehenswürdigkeiten von Belfast zu besuchen, sollte man sich am besten aufs Busfahren verlegen. Translink ist die Gruppe, die mit ihren Teilunternehmen Northern Ireland Railways, Citybus und Ulsterbus für den Transport rund um Belfast und in Nordirland sorgt. Züge (von der Trainstation an der Botanic Avenue oder der Central Trainstation am Lagan) gehen nach Dublin, Derry, Bangor und Larne. Alle Linien haben diverse Haltestellen auf den Strecken. Ein kostenloser Centrelink Bus verbindet die Central Station mit dem Stadtzentrum.