BALLYCASTLE

Ballycastle ist eine kleine ländliche Ortschaft an der nordwestlichsten Spitze der Grafschaft Antrim, wo Atlantik und Irische See aufeinandertreffen. Die Ortschaft ist ein beliebtes Ausflugsziel und liegt in der Moyle Gegend, umgeben von Bergketten, Wäldern, Tälern, Seen und Küsten. Wie man sich vorstellen kann, bietet eine so landschaftlich abwechslungsreiche Gegend unzählige Möglichkeiten zur Freizeitbeschäftigung. Die Gegend ist eine der schönsten Irlands und beheimatet die berühmten Nine Glens of Antrim (die neun Täler von Antrim). Die einzigartige Schönheit und Einsamkeit der Täler ist Grundlage für viele Sagen und Legenden.
Ballycastle eignet sich hervorragend als Ausgangspunkt für Erkundungen der Nord- und Ostküste. Der Giant's Causeway, die Bushmills Distillery und die Carrick-a-Rede rope bridge (Hängebrücke) sind weniger als zehn Meilen von der Stadt entfernt. Der Knocklayde Mountain überblickt majestätisch die Stadt. An seinem Fusse befindet sich der Ballycastle Forest, der zu gemütlichem Pichnick oder Wanderungen lädt. Bei guter Sicht kann man die berühmte Mull of Kentyre sehen, eine 25 km lange, der schottischen Küste vorgelagerte Halbinsel.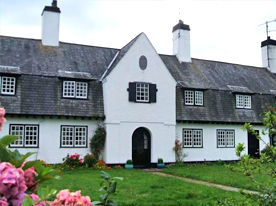 In Ballycastle legen die Fähren aus dem schottischen Argyll an. Die Fähre fährt zweimal täglich, eine Überfahrt dauert drei Stunden. Zweimal täglich, im Sommer häufiger, wird die der Küste vorgelagerte Insel Rathlin Island angefahren. Die Insel ist die einzige bewohnte Insel vor der Nordküste Irlands. Die ungewöhnlich geformte Insel ist 12 km lang und weniger als 1.5 km breit und bildet die Grundlage zahlreicher Legenden. Ihre Existenz soll durch die Mutter des berühmten Riesen Fionn MacCool begründet sein. Da der Riese die gesamten Whiskeyvorräte Irlands verbrauchte, machte sich seine Mutter nach Schottland auf, um von dort Nachschub zu holen. Als sie einen der Berge als Trittstein benutzte, stolperte sie. An der Stelle, an die der Berg fiel, befindet sich heute die Insel. Die Gewässer um Rathlin Island sind ein Paradies für Taucher, denn hier befinden sich über vierzig Schiffswracks. Vogelliebhaber aus aller Welt besuchen die Insel, um Papageientaucher, Basstölpel und Trottellummen zu beobachten.
Im Juni findet in Ballycastle das Fleadh Amhran agus Rince, ein dreitägiges Musikfest, statt. Am letzten Montag und Dienstag im August wird Markt gehalten. Auf dem Ould Lammas Fair kann man zwei lokale Spezialitäten erstehen: getrockneten Seetang (dulse) und Karamelkaubonbons, genannt "yellowman".