HOME : GOLF : DER ISLAND
Golf in Irland
Der Island Golf Club
"Gewaltige und breite Sandhügel, kleine, extrem gute Putting Greens, die für den Spieler zunächst meist unsichtbar sind. Dies sind die einzigartigen Eigenschaften des Island Links."

Apropos exklusiv: Bis 1960 war der einzige Weg, zum Club zu kommen, eine Bootsfahrt. Der Club war so abgelegen, wie überhaupt möglich und dabei nur 15 Meilen von Dublin entfernt. Doch dies hat sich nun geändert. The Island ist zugänglich geworden und wartet mit einem hervorragenden Golfplatz auf, der in einer Landschaft von gewellten Sandhügeln angelegt ist und kleine, herausfordernde Greens besitzt.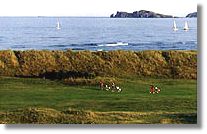 Der im Jahre 1890 gegründete Club wurde vor einigen Jahren neu gestaltet, um den Course zu verlängern und die "Blind Shots" zu vermindern. Das Resultat kann sich sehen lassen: Ohne etwas von seinem ursprünglichen Charakter eingebüßt zu haben, stellt der Kurs, mit Fairways, die sich durch schwierige Dünen schlängeln, einen harten, aber fairen Test - auch an geübte Spieler. The Island war seitdem Austragungsort diverser großer Amateurspiele. Klangvolle Namen wie Lionel Munn, Francis Jameson, Kanes, Rogers und Paddy Caul haben dazu beigetragen, die wichtigsten irischen Trophäen dem Club zukommenzulassen.
The Island Golf Club - im Überblick

The Island Golf Club
Donabate, Co. Dublin
25km von Dublin, nördlich von Portmarnock
Kommitee
Manager: John Finn
Professional: Kevin Kelliher
Architect: Hawtree, Hackett, Howes
Golfplatz
18-Loch Golflinks, Par 71, 6.195 meter
Besucher
Willkommen
Handicap erforderlich
Besucherzeiten:
Montag/Dienstag:
Mittwoch:
Donnerstag:
Freitag:
Samstag/Sonntag:


(Vorreservierung unbedingt erforderlich)

7:30-9:30, 11.00-12:00, 14:00-15.00
7:30 - 9:00
14:30-16:00
7:30-10:00, 11:00-12:30, 14.00-17:00
nach 16:00 Uhr



Öffnungszeiten
7:30 Uhr - Sonnenuntergang
Extras
Golfausrüstung auf Voranfrage
Unterricht auf Voranfrage
Proshop

Kevin Kelliher ProShop

The Art In Golf, 60 Upr. Grand Canal St, Dublin

Golf Crazee 70, Lr Camden St., Dublin


Clubhouse
10:30 - 24:00 Uhr Restaurant/Bar
Dresscode: Sportlich-elegant
(keine Jeans/Turnschuhe)
weitere Plätze
in & um Dublin

Portmarnock Hotel & Golf Links, Strand Road, Portmarnock Golf Club
Howth Golf Club, St. Fintans, Carrickbrack Road, Sutton
St. Margarets Golf & Country Club, St. Margarets
Royal Dublin, Dollymount, Dublin 3

Fazit
Ein echter Bilderbuch-Dünenplatz, einer der besten der Ostküste.