HOME : GOLF : LAHINCH
Golf in Irland
Der Lahinch Golf Club
"Ich halte diesen Küstengolfplatz für die beste natürliche Anlage auf der ich jemals das Glück hatte, spielen zu dürfen"

Gegründet wurde Lahinch im Jahre 1893 von einem schottischen Offiziersregiment der Britischen Armee, das in Limerick stationiert war. Lahinch ist mit seinen Sanddünen, den gewellten Fairways und hügeligen Greens das perfekte Beispiel eines echten irischen Küstengolfplatzes. Er wurde ursprünglich von ,Old' Tom Morris von St.Andrews entworfen und 1928 von Dr. Alastair MacKenzie ausführlich überarbeitet. Beide hat er inspiriert. Morris wird mit dem Ausspruch zitiert, "Ich halte diesen Küstengolfplatz für die beste natürliche Anlage auf der ich jemals das Glück hatte, spielen zu dürfen." Während MacKenzie - immerhin der Designer solch berühmter amerikanischer Plätze wie Pebble Beach, Cypress Point und Augusta National - über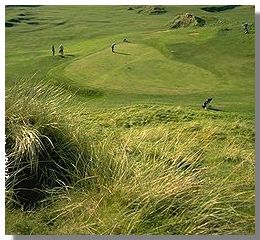 Lahinch sagte: "Lahinch wird der beste und beliebteste Golfplatz werden, den ich, und ich bin überzeugt auch andere, jemals angelegt haben." Wirklich überschwängliche Aussagen, aber Lahinch enttäuscht nicht. Ein zweiter Golfplatz, The Castle, wurde 1975 hinzugefügt, aber die echten Kleinodien finden sich auf dem alten Platz. Zwei der berühmtesten Löcher des Golf geben sich hier die Ehre. The Klondyke ist ein Par 5, der einen Schlag in ein beschauliches Tal beinhaltet, von wo man einen nicht einsehbaren 200 - Yard Schlag über eine riesige Sanddüne hinweg zu der Oase der Sicherheit, dem Green, spielen muss. (Habt Mut und spielt geschickt, meine Freunde!) The Dell ist ein Par 3, das entweder Verzweiflung oder Begeisterung auslöst, in jedem Fall aber durch seine natürliche Schönheit beeindruckt. Man spielt seinen Abschlag auf ein Green, das vorne und hinten von Sanddünen umfasst ist. Die Position des Flaggenstocks, welcher vom Abschlagplatz aus nicht zu sehen ist, wird durch einen Stein auf der Böschung der Düne markiert. Das Überqueren der Düne geschieht in angespannter Erwartung dessen, was einen dahinter erwarten wird. Obschon verhältnismäßig unbekannt, ist Lahinch doch ein weiteres Juwel in der Krone des irischen Golfspiels.
Der Lahinch Golf Club - im Überblick

Lahinch Golf Club
Lahinch, Co. Clare
Kommitee
Verwaltung: Alan Riordan. Professional: Robert McCavery.
Golfplatz
18-LochGolf Links, Par 72, Yards 6,735
Besucher
Willkommen (um Vorreservierung wird gebeten)
Handicap erforderlich
Öffnungszeiten
Sonnenauf- bis Sonnenuntergang
Drivingrange: täglich
Extras
Unterricht auf Anfrage
Golfausrüstung auf Anfrage
Caddyservice auf Anfrage
Proshop
GOLFERS Main St Clare Tel. +353 65 7081966
Clubhouse
ab 08.00 - 23.00 Sommer
•Dress Code: Sportlich elegant

weitere Plätze in Clare

Spanish Point Golf Club, Miltown Malbay, Clare
Kilkee Golf Club, Kilkee
Woodstock Golf Club, Ennis
Doonbeg Golf Course, Lahinch
Golfhotels
Lahinch Golf & Leisure Hotel;Woodstock Hotel, Dromoland Castle
Fazit
Sollten Sie nicht versäumen:
Eine Herausforderung an Ihr spielerisches Können vor einer atemberaubenden Kulisse.