HOME : GOLF : HINWEISE & TIPPS
Golf - Hinweise & Tipps

Golf ist ein anderes Spiel hier, so dass man auf jeden Fall folgende Punkte bei der Vorbereitung berücksichtigen sollte:



Das Wetter Es empfiehlt sich, mit allem zu rechnen. In Irland erlebt man alle Arten von Wetter, von Sturm über Regen und Hagelschauer bis zu wunderschönem Sonnenschein, und das eventuell alles während eines Spiels. Es ist hier nicht üblich, ein Spiel wegen Regens zu vertagen! Man spielt weiter, außer bei Gewitter. Man sollte also Pullover und Regenkleidung dabei haben, besonders wenn man seine Reise in der Nebensaison, im Herbst oder im Frühjahr, antreten möchte. Ein typischer "Soft Day" (Nieselregen) sollte auf jeden Fall mit einkalkuliert werden. "Just be prepared and enjoy!"
Die Ausrüstung Für die ernsthaften und ambitionierten Golfer unter Ihnen empfiehlt sich, die komplette Ausrüstung mitzubringen. Die Championshipkurse stellen harte Herausforderungen dar, denen Sie sicher mit "voller Bewaffnung" begegnen wollen! Es ist ratsam, einen Leihwagen anzumieten, in dem Sie bequem Ihr gesamtes Gepäck verstauen können. Den weniger ambitionierten Spielern sollte ein leichtes Bag mit zwei Hölzern, den Lieblings-Mitteleisen, einem Paar höheren Eisen und Ihrem Putter genügen.
Sollten Sie einen nicht ganz so intensiven Golfurlaub planen, haben Sie natürlich auch die Möglichkeit, Ihre Ausrüstung vor Ort, in einem der Proshops zu leihen. Der Discovering Ireland Vacation Golf Guide gibt Ihnen diesbezüglich Auskunft.
Sunday Bags Falls man keine Golftasche besitzt, die leicht genug ist, um sie 18 Löcher weit zu tragen, sollte man sich vor dem Urlaub eine besorgen. Batteriebetriebene Golfwägelchen sind für gewöhnlich nur bei den führenden irischen Golfanlagen erhältlich, so dass man normalerweise die Wahl zwischen einem Caddie oder einem Caddie Cart hat oder seine Tasche selbst tragen muss. Viele Golfanlagen haben Caddies, garantieren jedoch nicht für ihre Verfügbarkeit, da sie nicht direkt von den Betreibern der Anlage beschäftigt werden. Deswegen kommt es vor, dass einem nichts anderes übrig bleibt, als seine Tasche selbst zu tragen. Um sicher zu gehen, sollte man auf jeden Fall eine Sunday Bag (kleine Golftasche aus Leinen) dabei haben.
Pull Carts/motorisierte Buggies Generell verfügen alle der Clubs über Handwagen, die für einen Unkostenbetrag von ca. 2,5 € geliehen werden können. Für den Notfall sollte man jedoch mit einer Sunday Bag ausgerüstet sein. Einige Clubs bieten auch motorisierte Buggies, die allerdings in geringer Anzahl vorhanden sind und vorreserviert werden sollten.
(ca. 20 €-25€ / Runde).
Caddies Alle der hochrangigen Clubs bieten den traditionellen Caddy Service. Von Ihnen werden Sie die Insidertipps bekommen und während Ihrer Runde typisch irisch unterhalten. Um sicher zu gehen, dass Ihnen zu Ihrer geplanten Spielzeit ein Caddy zur Verfügung steht, sollten Sie diesen unbedingt im Voraus buchen. Die Gebühr, einen "Bag Carrier" zu mieten, variiert je nach Club und sollte vorab mit dem Caddy Master ausgemacht werden. Normalerweise werden zwischen 13 € und 25 € angesetzt, je nach Inanspruchnahme des Caddys! Vergessen Sie nicht, etwas Trinkgeld einzuplanen.
Private Clubs Im Unterschied zu Deutschland sind die meisten privaten Golfclubs in Irland gerne bereit, Besucher auf ihren Golfplätzen spielen zu lassen und sie auch ihre Einrichtungen nutzen zu lassen. Es ist jedoch wichtig zu bedenken, dass die Anlage natürlich vorrangig für die Mitglieder da ist und dass die Sorge des Clubs in der Hauptsache ihnen gilt. Bevorzugte Tage für Besucher sind auf unseren Clubseiten aufgelistet. Es ist aber auf jeden Fall empfehlenswert, vorher anzurufen, um sicher zu gehen, dass der Club Zeit für einen Gast hat.
Handicap Die meisten Clubs behalten sich vor, Ihr Handicap-Zertifikat einzusehen. Dies kommt in der Praxis jedoch kaum vor und Sie werden so gut wie nie nach Ihrem Zertifikat gefragt. Sollten Sie jedoch an einer offenen Competition teilnehmen wollen, müssen Sie Ihr Handicap vorweisen können.
Der Dresscode Die entspannte irische Lebensart spiegelt sich in den Kleidungsvorschriften der Clubhäuser wider. Je nach Club ist ein sportlich-eleganter Kleidungstil gefragt. "Mann" sollte jedoch seine Jeans zu Hause lassen und für alle Fälle Jacket und Krawatte im Gepäck haben.
Zu Beachten Eine wachsende Anzahl von Clubs schreibt "Soft Spikes" vor. Es kann also sein, dass Sie gebeten werden, Ihre Metal Spikes gegen Soft Spikes auszutauschen (z.B. Old Head of Kinsale; Gebühr ca. 13 €).
Nordirland Einige der besten und eindrucksvollsten Golfplätze befinden sich in Nordirland. Dort sind die führenden Anlagen weit weniger abgelegen als in der Republik. Man sollte sich nicht von Medienberichten über die Hauptstadt Belfast abschrecken lassen. Wichtig ist, zu bedenken, dass die Provinz zu Großbritannien gehört, die Währung also Pfund Sterling ist, obwohl auch der Euro häufig akzeptiert wird.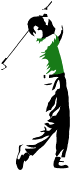 Fazit Irlands bestehende Golfplätze zählen zu den besten der Welt. Diesem Anspruch können natürlich nicht alle Plätze des Landes entsprechen. Von den über 330 Golfplätzen sind etwa 29 von herausragender Qualität. Andere sind zwar gut, aber nichts, was es nicht auch anderswo gäbe. Von den erwähnten 29 Plätzen sind generell alle für Besucher zugänglich.

Discovering Ireland Vacation beschreibt für Sie auf den folgenden Seiten die schönsten Golfplätze und nennt Ihnen gleichzeitig die exklusivsten Golfresorts und Hotels.