HOME : GOLF : DRUIDS GLEN
Golf in Irland
Druids Glen Golf Club
" Legt mir den schönsten Inlandgolfplatz Irlands an, was auch immer es kostet."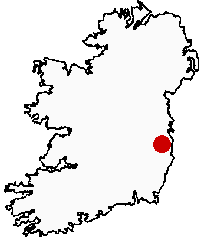 Der Besitzer dieser Anlage, Hugo Flinn, gab den Designern Pat Ruddy und Tom Craddoch, die auch den berühmten St. Margarete's Golfplatz entwarfen, den Auftrag, den schönsten Inlandkurs zu kreieren. Kosten spielten keine Rolle. Nach einer Investition von 16 Millionen Dollar wurde ihr Werk im September 1995 eröffnet. Nur wenige Monate später wurde die Anlage als Veranstaltungsort der 1996 Murphys Irish Open ausgewählt und blieb dies auch in den folgenden drei Jahren. Ruddy gab beschämt zu, einige der Schlüsselaspekte von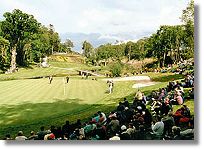 Augusta National bei seinem Entwurf übernommen zu haben. Die Golfanlage befindet sich nur 25 Meilen von Dublin entfernt in der wunderschönen Grafschaft Wicklow. Die Gegend ist bezaubernd, besonders in der Nähe der Bergschlucht (Gleann na Drioite), der der Platz seinen Namen verdankt. Der auf dem Woodstock-Anwesen gelegene Kurs wird von einem großartigen Herrenhaus überblickt, das 1770 von Sir Thomas Wentworth erbaut wurde und heute den Spielern als exklusives Clubhouse dient. Druids Glen wird als American Target Platz beschrieben und weist einige erfreuliche Abwechslungen in den Bodenerhebungen auf. Experten halten ihn für das Augusta Europas.

Druids Glen Golf Club - im Überblick

Druids Glen
Golf Resort
Druids Glen Marriott Hotel

Newtownmountkennedy, Wicklow
45km südlich von Dublin City, 5km östlich von Newtownmountkennedy an der N11.

Kommitee
Verwaltung: Golf Director-Aiden Murphy
Professional: Eamonn Darcy
Architekt: Pat Ruddy & Tom Craddock.
Golfplatz

18-Loch Parklandplatz, Par 72, Yards 7,058

Besucher
Willkommen (um Reservierung wird gebeten)
Handicap erforderlich
Öffnungszeiten
ab 7:30 Uhr
Driving Range: täglich
Extras
Unterricht auf Anfrage
Golfausrüstung auf Anfrage
Caddyservice auf Anfrage
Proshop
Resort Golf Shop

Greystones Golf Shop,Wicklow

Golf Crazee, 8 Goldsmith Tce, Quinsboro Rd., Wicklow
Clubhouse
ab 7:30 Uhr - Restaurant und Bar, Meetingräume
•Dress Code: Sportlich-elegant
weitere Plätze
in Wicklow
•Bray Golf Club, Ravenswell Road, Bray
•Powerscourt Golf Club PLC, Powerscourt Estate, Enniskerry
•Charlesland Golf Club, Greystones
•Glen of the Downes , Coolnaskeagh, Delgany
Golfhotels
Druids Glen Marriott Hotel, Mount Juliet Estate, Rathsallagh House
Fazit
Kein Irlandbesuch, ohne hier gespielt zu haben - ein traumhaftes Ambiente.