The Gap of Dunloe - Die Schlucht von Dunloe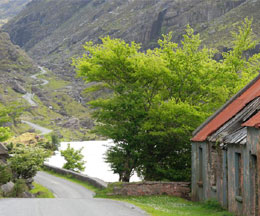 Eine atemberaubende Schlucht zwischen den Purple Mountains - horizontale Platten von bloßen Felsen, die sich nach unten gegen das Grün und das Wasserreichtum neigen - die Schlucht von Dunloe ist ein Juwel inmitten des höchsten Gebirgszuges von Irland. Ein Fluss fließt durch die Schlucht, und Sie können über malerische Brücken gehen oder sich auf grasbewachsene Bänke setzen, um sich auszuruhen. Schlendern Sie mit Ihrem Partner Hand in Hand durch die Schlucht oder lassen Sie sich zu einer Kutschfahrt mit Klidesdale-Pferden einladen.
Die Schlucht von Dunloe ist ein sehr beliebter und romantischer Ort. Man wird Ihnen vorschlagen, dort nicht mit dem Auto zu fahren. Die Straßen sind eng und gerade breit genug, dass eine Kutsche oder ein Auto durchfahren können. Man wird Ihnen empfehlen, zu Fuß zu gehen, mit dem Fahrrad oder der Kutsche zu fahren. So können Sie die frische Luft um sich herum einatmen und genießen freie Sicht auf dieses Meisterstück der Natur.
Die Schlucht von Dunloe liegt inmitten der McGillicuddy Reeks. Sie wurde vor zwei Millionen Jahren durch Gletscherbewegungen erschaffen - westlich von ihr liegt der Carrantuohill Mountain und östlich der Schlucht liegen der Purple Mountain und Lough Leane. Eine Fahrt gen Norden ist ebenfalls traumhaft: eine ruhige Talstraße, die entlang des Flusses Laune und durch die Stille der Wälder führt. Bei der Fahrt gen Süden überqueren Sie den Fluss Laune und fahren am Hill of Aghadoe, einem Kloster aus dem 12. Jahrhundert, vorbei.
Unterkünfte in der Region Cork/Kerry:
Burgen_und_Schlösser • Herrenhäuser • Exklusive_Hotels • Hotels • Besonderes • Cottages